The Clos : restaurant of Château de Labro
gourmet bistrot, piano bar, breakfast in a unique setting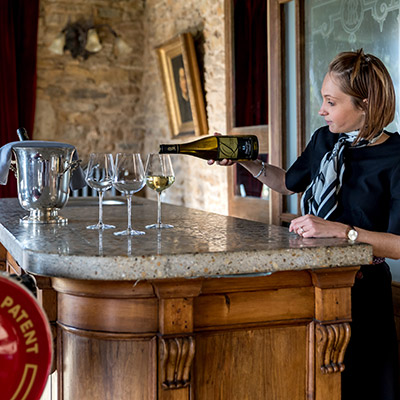 Espace bistrot
Revisited bistro atmosphere
In a revisited bistro atmosphere with a magnificent view of the valley, our talented young chef invite you to discover a refined cuisine prepared with fresh local products. Not to forget our selection of the finest regional wines to accompany your meal.
A fine selection of our regional wines to accompany your meal.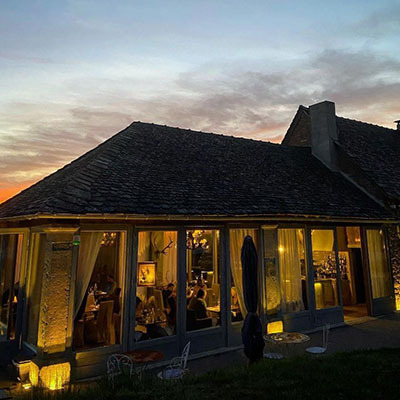 Piano Bar
Open to the countryside
A deux, entre amis ou en famille, vous profiterez d'un magnifique espace à l'ambiance chaleureuse, bénéficiant d'une magnifique vue sur la vallée.
Espace privatisable pour un dîner de groupe, un repas de fête entre amis ou en famille...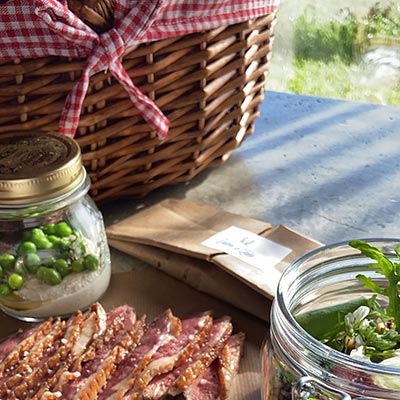 Clos Baskets
Originality and unexpected atmosphere
A real timeless experience to live and savor in complete serenity both outside (park and terrace of the Château, pond in the middle of the vines, from the terrace of the perched hut, under the weeping willow, etc.) only inside (hunting room, green room, cabinet of curiosities,...) for lunch and dinner...and by reservation only Find out more about Les Paniers du Clos...
The quality of our commitment
Pour votre plus grand plaisir nous privilégions un accueil et un service personnalisé,
le «fait maison» ainsi que la découverte de produits de terroir de qualité.
Our restaurant is listed in the prestigious Michelin Guide, and has been rewarded « quality restaurant » by the French Culinary Institute (Collège Culinaire de France)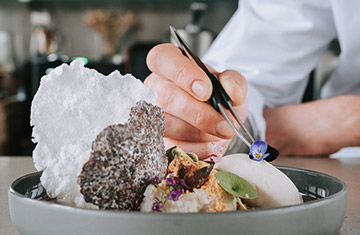 Menus
Market menu

The surprise

3 DISHES
Starter, meal, dessert
37 €

Plaisir menu

La Découverte

5 DISHES
Changing with the seasons
57 €

A few examples of the dishes served at Château de Labro throughout the seasons

Saint Jacques en 3 façons, Courge de Port d'Agrès rôtie & Crème de corail
Œuf parfait, Brioche toastée, Déclinaison de topinambours & jus Truffé
Foie gras poêlé, Brioche toastée & Réduction de Ratafia du Domaine Laurens
Tartare d'Asperge, Espuma lait de brebis & Eau d'Asperge, Pointes cuites & crues
Duo d'Agneau de la Table de Solange, Hummus de pois chiche Aveyronnais & épices
Turbot comme une Meunière, Pomme de terre, Citron confit & brulé
Veau du Ségala comme un Vitello Tonnato
Autour de la Courgette de Port d'Agrès, cannelloni & Brousse du Larzac
Gaspacho Vert, Chèvre frais de l'Aveyron & Fruits rouge
Veau d'Aveyron, variation autour de la Carotte & Jus corsé à la réglisse
Filet de Bœuf d'Aubrac, autour du Céleri, Cromesquis Roquefort & Jus corsé au thym
L'Agneau de la Table de Solange en deux cuissons, Légumes d'hiver & Jus d'agneau infusé à la Sauge
Longe de Porc des Monts Lagast en croute d'herbes, velours de Petits pois, légumes d'Avril & Jus corsé
Filet de Bœuf d'Aubrac fumé aux sarments du Clos, Soubise d'oignons, Cébettes de Port d'Agrès, Pomme Pont Neuf
Suprême de Pintade de la Maison Forte, Crème d'Ail, Sucrine braisée, Pommes Grenaille & jus de Volaille infusé au Romarin
Bananes flambées au Rhum Aveyronnais & Chocolat comme un Banoffee
Amandes comme un riz au lait
L'Orange sanguine & la Carotte
Autour de la Clémentine
Le Choco-Poire
Les Agrumes & l'Aneth
Le café & la Tonka
La Fraise & la Rhubarbe
Cerises, Chocolat Manjari & Piment d'Espelette
Abricot, Miel & Chocolat Caraïbe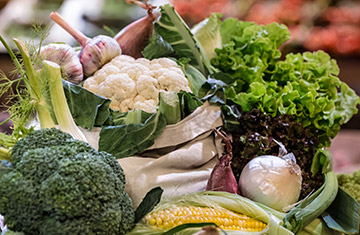 The fine cuisine of Raphaël
Young Chef of Breton origin, Raphaël while crossing France cut his teeth with talented cooks.
Passionate about Gastronomy and the variety of products offered by the different French regions, Raphaël settled in Aveyron and surrounded himself with the best local producers to work with fresh products from our beautiful terroir.
Rich in his past experiences in Provence, on the Basque Coast or in Ireland, the mastery of different techniques, cooking & seasoning, are found in his plates with fair and balanced combinations.
His conception of cuisine is also and above all the sharing and the desire to please that you will find when you come to taste this beautiful, intuitive and authentic cuisine in our Restaurant Le Clos.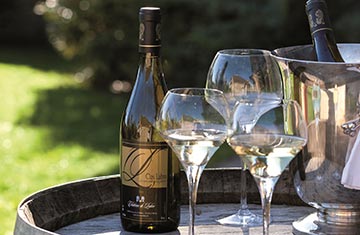 The origin of our products
We have selected the region's best products and specialities for you to enjoy throughout your stay.
Vous pourrez également découvrir le Clos Labro, un vin blanc sec unique et complexe issu des 6 cépages situés dans le clos autour de la piscine du Château (chardonnay, viognier, mauzac, colombard, muscat petit grain, petit manseng) : une production limitée de 1200 bouteilles dédiée exclusivement à la table de Labro, et proposée en souvenir à nos hôtes de passage...
Our chef, suppliers, growers, cheese makers and producers all work together every single day to offer quality products, such as:
Take a look at some of our suppliers

Legumes and aromatic herbs from Bernard Roualdès in Port d'Agrès
Charcuterie from Aveyron: Maison Roland Serin
Veal from Aveyron and Ségala, Label Rouge
Pure farm-bred Aubrac beef, Label Rouge
Cheese from Aveyron: Ecir, Laguiole, Roquefort, chèvre de la vallée du Lot... Douls Fromagerie - From Mazel to Rodez
Farmhouse bread and focaccia from l'Epi du Rouergue
Honey from Pascal Imbert - Miellerie de la Cascade (Honey Farm) in Salles la Source
organic milk yoghurt, les Paturins in Prendeignes
Seasonal fruits from Yannick Colombier
Fruit juices from Pruines - the Pouget Family
Coffee from Maison Richard
The Clos Restaurant welcomes you
EVENINGS from Tuesday to Saturday and by reservation only
for group meals, LUNCH every day and also by reservation

05 65 67 90 62

PIANO BAR available for private hire for dinner with friends or family, a romantic meal, a business lunch...
PANIERS DU CLOS every day for lunch and dinner from May to September by reservation
LABRO'CANTE evening from mid May to early September and by reservation