The Clos : restaurant of Château de Labro
gourmet bistrot, piano bar, breakfast in a unique setting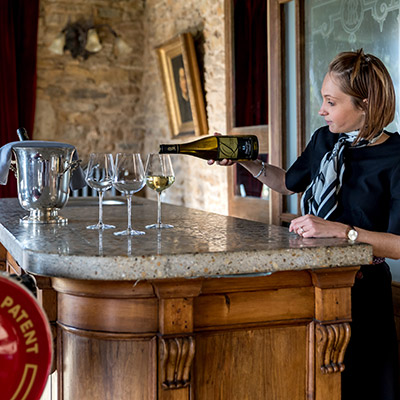 Espace bistrot
Revisited bistro atmosphere
In a revisited bistro atmosphere with a magnificent view of the valley, our talented young chef invite you to discover a refined cuisine prepared with fresh local products. Not to forget our selection of the finest regional wines to accompany your meal.
A fine selection of our regional wines to accompany your meal.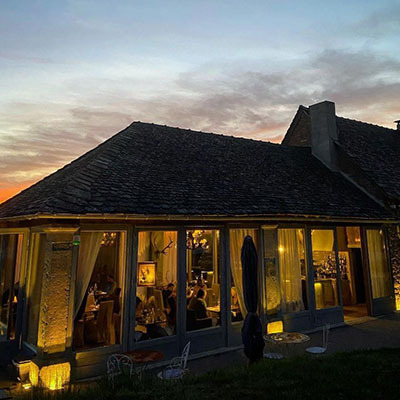 Piano Bar
Open to the countryside
Whether in a couple or with friends or family, you can enjoy our warm and welcoming areas with a magnificent view over the valley. Private area available for hire for a group aperitif, a romantic meal, a business lunch, or to share with friends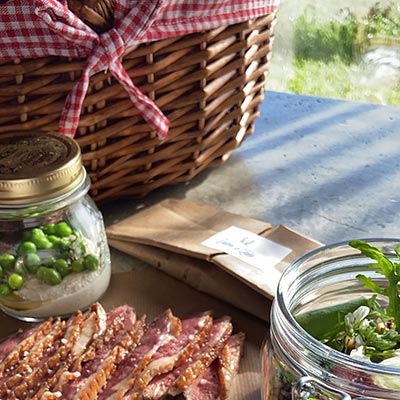 Clos Baskets
Originality and unexpected atmosphere
A real timeless experience to live and savor in complete serenity both outside (park and terrace of the Château, pond in the middle of the vines, from the terrace of the perched hut, under the weeping willow, etc.) only inside (hunting room, green room, cabinet of curiosities,...) for lunch and dinner...and by reservation only Find out more about Les Paniers du Clos...
The quality of our commitment
You will receive a warm welcome, a service personalised for you, a real home-made feel and the chance to discover quality local products.
Our restaurant is listed in the prestigious Michelin Guide, and has been rewarded « quality restaurant » by the French Culinary Institute (Collège Culinaire de France)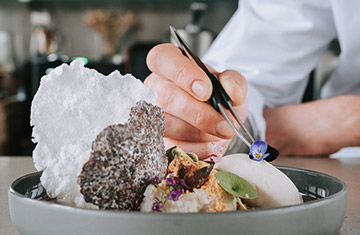 Menus
Market menu

The surprise

3 DISHES
Starter, meal, dessert
35 €

Plaisir menu

La Découverte

5 DISHES
Changing with the seasons
55 €

A few examples of the dishes served at Château de Labro throughout the seasons

Carpaccio de bœuf Aubrac mariné, huître de Bouzigues, betteraves du marché, écume iodée
Déclinaison de carottes couleurs, en purée, à l'huile d'olive, au cumin, au vinaigre balsamique blanc
Tartare de maquereaux, framboises, feuille de shiso et purée de betteraves
Escargots de Nadaillac poêlés en tempura, royale de persil et aïgo boulido
Carré de cochon gras mariné au piment d'Espelette, poivron Sweet Banana et chipirons
Pavé de truite saumonée à l'unilatérale, risotto d'orge perlé, tombé de chou rouge au malt
Carré de cerf de l'Aubrac servi rosé, jus au grué de cacao, mousseline de céleri et poires confites au beurre
Pièce de bœuf fermier Aubrac,réduction de Marcillac, gâteau de pomme de terre au Laguiole
Pomme de Pruines façon Tatin, chantilly aux graines d'acacia
Pamplemousse en mousse et confit, glace gingembre, confit de miel et huile d'olive
Fraises de pays, mousse mascarpone au thé jasmin, financier à la pistache
Baba au rhum ambré, ananas rôti à la fève de Tonka, sorbet ananas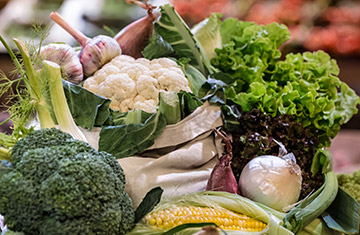 The fine cuisine of Raphaël
Young Chef of Breton origin, Raphaël while crossing France cut his teeth with talented cooks.
Passionate about Gastronomy and the variety of products offered by the different French regions, Raphaël settled in Aveyron and surrounded himself with the best local producers to work with fresh products from our beautiful terroir.
Rich in his past experiences in Provence, on the Basque Coast or in Ireland, the mastery of different techniques, cooking & seasoning, are found in his plates with fair and balanced combinations.
His conception of cuisine is also and above all the sharing and the desire to please that you will find when you come to taste this beautiful, intuitive and authentic cuisine in our Restaurant Le Clos.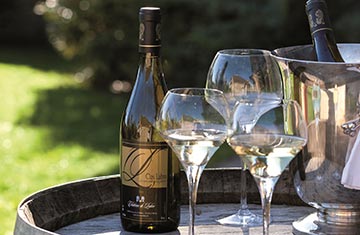 The origin of our products
We have selected the region's best products and specialities for you to enjoy throughout your stay.
You will also discover Clos Labro, a unique and complex dry white wine made from 6 grape varieties that are found in the plot around the Château's swimming pool (Chardonnay, Viognier, Mauzac, Colombard, Muscat Petit Grain, Petit Manseng): a limited production of 1,200 bottles, dedicated exclusively to the Labro restaurant and offered as a souvenir to our guests ...
Our chef, suppliers, growers, cheese makers and producers all work together every single day to offer quality products, such as:
Take a look at some of our suppliers

Legumes and aromatic herbs from Bernard Roualdès in Port d'Agrès
Charcuterie from Aveyron: Maison Roland Serin
Veal from Aveyron and Ségala, Label Rouge
Pure farm-bred Aubrac beef, Label Rouge
Cheese from Aveyron: Ecir, Laguiole, Roquefort, chèvre de la vallée du Lot... Douls Fromagerie - From Mazel to Rodez
Farmhouse bread and focaccia from l'Epi du Rouergue
Honey from Pascal Imbert - Miellerie de la Cascade (Honey Farm) in Salles la Source
organic milk yoghurt, les Paturins in Prendeignes
Seasonal fruits from Yannick Colombier
Fruit juices from Pruines - the Pouget Family
Coffee from Maison Richard
The Clos Restaurant welcomes you
EVENINGS from Tuesday to Saturday and by reservation only
for group meals, LUNCH every day and also by reservation

05 65 67 90 62

PIANO BAR available for private hire for dinner with friends or family, a romantic meal, a business lunch...
PANIERS DU CLOS every day for lunch and dinner from May to September by reservation
LABRO'CANTE evening from mid May to early September and by reservation